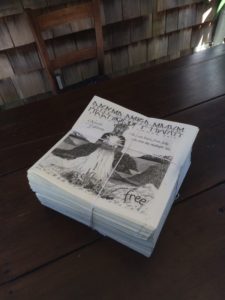 The illustrations in the Spring/Summer 2017 print edition of the Upper Left Edge were created with ink and brush pens, and watered-down black gouache. The figure on the cover is an interpretation of the Sami goddess Beativi. As well as being a deity of the sun, she also represents the Spring and reindeer, hence the flowers at her skirt and her animal head.
I chose to depict illustrations rooted in nature because of the role the natural world plays in our lives, especially to the Northerners in Europe. My family has kept information on our Sami ancestors, and this has allowed me to learn about my heritage and relation to people who understand their connection with nature, who use it resourcefully and considerately, and who understand its potency and worth. I hope we can continue understanding this as well — nature and the importance of its protection and power as a rejuvenating force.
The hand lettering on the cover was created by my mother, Nicole Poole, also visual artist. Done in black ink and applied using a dip pen and Speedball B nib, the runes on the cover spell out "Upper Left Edge." It is on her side of the family that I get my Sami heritage, and her from her mother's side.
I have been in the Pacific Northwest for almost my entire life, and it has been a huge part of my growth, interests, and visual expression. Educated originally at Fire Mountain School, I have a huge passion for nature and am happiest in wild areas.
This Fall, I will be attending college as a Freshman to study visual arts and zoology with a final desired career as an ornithologist. Birds are often used as symbols for freedom, and I believe it's necessary to keep them as free as possible — free from confinement and environmental catastrophe — and I wish to take part in rectifying these issues.
Aside from drawing and exploring various ecosystems, I also enjoy hiking, writing, reading, and sometimes running.