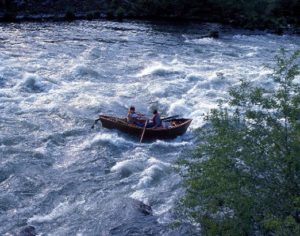 This is a hastening tributary —
it's not the wider river
with headwaters gathered in the Rockies
which divulges its volume beyond Astoria.
During these weeks around fall equinox
fishermen wait their turns
above choice stretches,
not holes exactly,
but congregational spots
where fish rest after exerting
themselves up through some rapids.
One drift boat leaves, the next enters the run,
with drag set, the oarsman
rows gently upstream, prolonging
the opportunity to set a hook.
It's not unexpected, merely the gist
of drift boat tradition.
Loud discourse disrupts the serenity —
sometimes I fear that the lines-out exceed the fish.
Yet, we all relish the urgent river,
how the light changes its surface,
its glacial chill, the wary Mergansers,
its slalom course past the canyon sidehills,
Salmon returning from the Pacific.