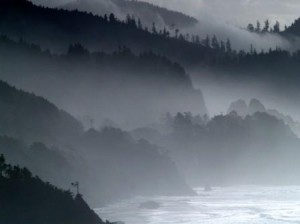 "The upper left edge is the place on the page
where we start writing."
The Reverend Billy Lloyd Hults
Welcome to America's upper left edge, where word-freaks explore our home frontier.
We've been waiting for you here, beyond the far west pavement, crouched under tarps clutching berry-stained thesauri. To celebrate your arrival we've donned fringy cedar vests and headbands made of kelp we gathered while beachcombing.
Want to trade? How about this headband in exchange for some prose or poetry? Go ahead, try it on.
Explorer themes are fashionable here. In fact, these sentences were stitched near the grounds of native coastal villages that tourists have explored for hundreds of years.
Some claim our headlands act like magnets for venturesome scribes. You've probably heard of two textbook explorers — Meriwether Lewis and William Clark. They came here during the off-season to journal and mark territory for conquest.
Our kind write for other reasons. We explore truth, beauty, and wit. Hopefully our scribbles in this place will honor elders who first discovered words here, thousands of years ago, and wove them into winter longhouse stories.
So come. Sit. Enjoy the glow of our driftwood fires and the spicy blooms of self-seeded nasturtiums. When the sideways rain abates we'll go commune with the ghosts of the old forest. Later we'll look deep into the local tide pools. Beatific things live off the beaten track, here at the fraying ends of empire.
Yet take care, fellow wanderer. Among the scenic crags there be sirenic hags and salty madmen. Some songs can pry open the most hardened mainstream hearts.
You look very cool in kelp, by the way. Care for a swig of clam juice?
We'd be grateful if you'd post a comment — on a blog entry or at The Confessional. Registration is free to all who explore the frontiers of community.