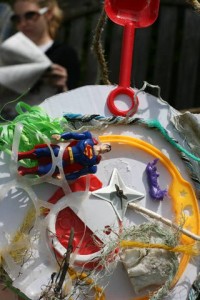 The summer after the recession hit my brother Larry and I built a putt-putt course in our basement. The project was an extension of a goofy golf obsession we acquired during family trips to the beach.
Larry and I were avid fans of those salty roadside attractions with their funky folk art dinosaurs and silly sea creatures looming over the greens. With stubby pencils we kept score of who best navigated the loops and spirals and mechanical contraptions. The rivalry wasn't pretty, but we were addicted.
So while adults spoke in worried tones about the economy and President Nixon, we used blocks and cardboard boxes and broken toys to construct a putting experience in our basement that would have made Rube Goldberg grin.
We charged money, too, and kids came from throughout the neighborhood. Some brought enough coins to play all day!
Hopefully some of that childlike buzz will be revived at the Tolovana Arts Colony's Sixth Annual Cannon Beach Puttz – held Tuesday, June 12, from 1 till 6 pm. Local businesses and organizations are building 12 funky holes all over town. I'm collaborating on a hole with my merchant-neighbor, John Fraser.
Since Larry is 3,000 miles away, I can think of no better person than John to partner with in this endeavor. If financial status were fueled by creative weirdness, local VIPs would be competing for John's attention at CB social events. His feel for the goofy aesthetic is conspicuously clear in the collections of odd ornaments he has glued to the cars he's driven.
So I'm grateful the merry prankster fates have handed me the chance to team up with John and construct a hole in the little courtyard behind our shops. A full list of the other sponsors are listed at the Tolovana Arts Colony website.
The Cannon Beach Puttz has hung in here for six years thanks to a few volunteers and core supporters. This kind of scruffy little event isn't always easy to sustain, especially in a down economy when other happenings are prioritized by the poobahs at the top of the village pyramid. Yet it serves an important role, even if it doesn't get a lot of attention.
"The Puttz is a way to have some fun as a community before the craziness of summer begins," says Evie Alburas, a fellow board member of the Tolovana Arts Colony. "It helps us enjoy being silly. Every year I'm flabbergasted by the unorthodox things that hole creators come up with — like a big scary fishlike creature holding a Barbie in its mouth, or a ramp that shoots balls up in the air that you have to catch in baskets on your head."
In other words, it's good for adults to remember how to be kids. If folks have fun with our imaginations, we might cope with the world a bit better. We may even raise some funds to help revive the local arts vibe for the whole year.
Creativity is often fostered by quirky folks with more ideas than money. Good things grow where goofiness is celebrated.
Here's to a summer full of productive foolery.