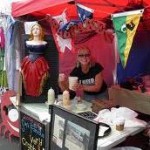 Stop and talk to Watt Childress (who founded this website) any day at Jupiter's Books in Cannon Beach and you'll hear the gospel of community. The good news that our community is full of talent and special people and that we have much to give each other if we would find ways to share. Upper Left Edge is one of those ways. The Farmer's Market is another.
This was brought home when I visited the Market today with my kids. Our first stop was Cranky Sue's (who's had two restaurant locations over the last six years in Cannon Beach and now sells weekly from her booth) because she doesn't just sell food. She sells magic. And healing. And affection. You taste all of these in her crab dip (so good that when she opened her first store I ordered it fourteen straight days), chowder, pesto chicken wraps, and crab quesadillas.
Next to her, guitarist Brian Johnstone wrestled and caressed his strings through intricate tangos, waltzes, and hymns. With face to the sky, his fingers pressed, flicked, and summoned sights and sounds of fields and vineyards, the Nativity, a Clint Eastwood western, and Spanish courtyards with jeweled ladies dancing. To sit in one of the green or blue plastic chairs in front of him was to be transported.
Then we wandered to the Nehalem Bay Pie Company booth and faced the arduous task of picking between Boysenberry, Blackberry Raspberry, Apple Crumble, Chocolate Cream, Key Lime, Peach Coconut and various other miniature pies. We picked chocolate and apple. My son said it was the best chocolate he'd ever had and the apple taste was so earthy it took me back decades to a memory of picking apples in an orchard with my grandma.
I left the Farmer's Market with most of the cash in my pocket gone. But that was a good thing. The only reason I had the cash was because I sold a few boxes of used books to Watt. Having just moved, I needed to downsize and Watt's store gave me the financial incentive. That money was then liberally sprinkled between Brian Johnstone, Cranky Sue and Nehalem Pies. To people sharing their passions, giftings, songs, and goods with each other.
 Have you caught how special I think community is today? The Market goods weren't just organic, local, raw, or any of the time's popular catchphrases – they were personal. Sue doesn't just make her crab dip and chowder as a commodity to make her rich; she makes it with love. And you can taste that. Same with Nehalem Bay's pies. And probably with the other fine booths we didn't taste from like The Juice Box and O Falafel and others.
Thanks, Watt, for preaching your gospel with this website. Thanks for buying my books so I can buy local pie and chowder and tip an incredible musician. The Nehalem pie man thanked us for buying his pies. But I said, "No, thank you." Because we are the richer for having pies that delicious available to us. We are the richer for having Cranky Sue's food. We are the richer for hearing the distillation of thousands of hours of practice in Brian Johnstone's soaring strings. We are the richer being part of Community. And that, as far as I can tell, is a big part of Watt's Gospel.