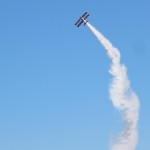 We think it's what we wanted.
The day was a spectacle of flying robots.
Until the ten-story one plowed head first into the field in front of us.
People and parts flew. Angry rumors whisked by that the robot had no pilot. A lady shrieked her thanks: a pilot had been spared! I choked down my shriek: had there been a pilot, all might have been spared.
When had we lost our minds about automating drones? Even the Army's Giant Robots marching through Mexico the previous summer had routinely malfunctioned. But at least those were piloted by humans. Man was killing man. It wasn't machines killing man.
"Even our worst enemies deserve, at the very least, to be killed by other humans," a four-star general reported from the field.
When had we fallen this far? So that death was deserved? And being killed by humans was a gift?
Death by robot. I thought back to the beginnings of war. When it was hand to face then rock to skull. When sticks struck, bullets tore flesh, and bombs blew all to dust. When man rode robots to war, striking down robots and taking their pilots prisoner. But now, automated robots filled the sky. Ones that didn't need humans to tell them anything. Ones that landed where they wanted. Killed when they wanted. Whom they wanted.
Wanted… Devoid of pilots, did robots want?  Weren't their wants equations? Their memories number strings? Their morals algorithms? Where in those numeral constructs-of-man was the divine spark that made man? In cutting the umbilical cord between machine and man, in anointing the thing-made with life from another thing-made, wasn't the spark of the unmade lost?
I remembered childhood teachings: being made by the creator. And in that image, we, in turn, made. But what happened when we gave what we made our life instead of the creator's? Were robots God's bastard grandchildren? Or were they bastard toys, made by us: the wrecked, luminous ones?
Bastards.
Then, when our bastards wanted to drive, we threw them the keys — committing ourselves to death. "Here," we said, handing our divine life to them like a dirty, torn rag, "Play with us as you will. We are done."
Oh, the folly of giving the created thing power to kill its creator. Had no one read history? Had the transition to computers with glitches, freezes, and shutdowns been forgotten? What if every one of those had killed its user or blown up everyone around them?
"And yet, they're better – those machines," they said. "They make better food. They make better movies. They make better living." When did the lie start that humanity was the glitch, the stain on the main hall carpet to be removed before guests arrived?
Was not anything human infinitely better than machine?
Once upon a time, when we tired of Creator as king, he gave us man. Later, when we tired of man as king, we gave us machine. Then, when machines tired of man…
To save a pilot, we taught machines to kill without one. But to save one, have we now killed all?
Have we stepped back from the parapet of responsibility and honor, waving to grateful multitudes, and retired to padded thrones to let something else run humanity. Hail, King Robot, the future will cry. And we who are small – and beautiful – we who have the fingerprint of the divine, we the small…fall.
The day was a spectacle of dying, Robots.
We think it's what you wanted.