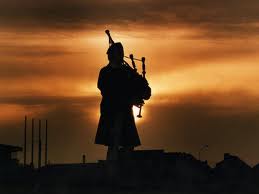 Some think that Scotland sterts somewhere near Perth
-or close by Edinburgh she at first draws breath.
While speedin' Heiland –wards tae don a kilt
An' nod at skirl o' Bagpipes and the lilt
-O' Gaelic-soondin' names that resonate,
wi' rapid tour-guide soond-bytes in their pates.
An' randy for tartan-drapit fantasie,
Frae "Brogadoon" tae "Brave and bonnie Prince Charlie".
But sooth o' there's an airt they dinna but run bye,
O' mist-sheep-shadae, hills an' moors an' aye.
Hard-handed pragmatists wha' daily reap an' plow,
An mak' fine woolen garments then as now.
I'm speakin' o' the land that's "Borders" named
In mony a ballad, poesy an' tale o' fame.
In wundy bald-crest, burn-drained foldit' hill and vale,
And toons with folk o' habit, leal, wise and hale.
This land o' former hot-trod, reivin' tribe and family,
Is no' jaist -what they're telt they "ought to see"!
It's hist'ry owes but little tae romance
But pillage, retribution and "Tak yer chance"!
Nae pallid Euro-prince wad ha' survivi't here
But wad ha' been impaled on Scott or Elliot spear.
Sic' heritage as bearin' pike and halberd, het-blood root,
Is now on rugby field or Jethart ba' played oot.
The land that seldom Scots nor English throne could tame,
Is unco' blest wi' spirit bold but yin that values hame.
And kinfolk canny, unpretentious, fu' o' pride
That's oft' in stoic manner first perceived ootside.
The folk o' Scotia's southland link 'sels mair
Character alike tae northern England's mores, music and affairs.
Oft' by mutual need, alliances were made,
Across a line that Romans then fell monarchies had made.
Listen keenly tae the spoken word,
O' common folk and Bards wha's muse first stirred
In Border toon an' sheep-cropp'd hillside bare.
Appreciatin' clear burn, grass and fresh pure air.
Hear throaty smallpipe, liltin' fiddle and refrain,
-The very hint o't tak's ma world-absented mind tae hame.
Wandrin's worthy, curious and body lang away,
Frae river-squattin' stane toons, auld an' gray.
Hermitage, Jethart, Roxburgh, Lochmaben -ancient, storied keeps,
Their very aspect stirs tales and legends o' deeds wild an' brave and threep
-intae ilka aspect o' their atmospheric-staunch existence tae this day,
As if to say "Here still sits power; in spite o' History I stay"!
Bards o' plenty this wild land has spawned,
Rabbie Burns, sir Wattie Scott, Wat' the Rhymer stand,
Alive still, words o' wisdom, tale o' mirth and tragedie,
Remain this day for those o' us whae care their worth tae see.
This modest, hamely tribute now my muse maun cour.
As quo bard Rabbie "Sic flight are far beyond her power".
I leave ye hopefully wi' curiosity,
This worthy, storied Borderland tae see.