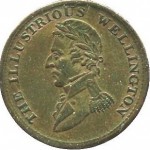 Looking through a dormant coin collection I discovered a surprise. While I very seldom add to the collection or for that matter even look at it, it is decidedly pre-decimalization British monarchs. Imagine my excitement when I discovered a Wellington half penny. What caught my eye was the date 1816. Further examination yielded a handsome, male profile surrounded by the words "The Illustrious Wellington" on the obverse. The reverse contained the year and the words "Waterloo Half Penny" surrounding an Irish harp topped with a British crown.
Being curious and web enabled, a search of various databases ensued. I learned that Wellington was born Arthur Wellesley in Dublin on 1 May 1769 and grew to be 5 feet 9 inches tall. He was called "Beau" by his fellow officers for his wavey brown hair. He had a brother, ten years older, who had connections and helped him buy his first commission as an ensign. That was normal at that time, but it didn't help him win his wife, Kitty Pakenham, until ten years and many military victories after his proposal. They married in 1806. He became a duke and she a duchess in 1814. They had a poor relationship, not helped by his absence fighting wars.
I won't recount any of his triumph at Waterloo, a town now in Belgium. However, one story brings us back to the fact that these are my memoirs. According to one Captain Gronow of the First Foot Guards: " His Grace, on looking round saw, to his surprise, a great many umbrellas, with which the officers protected themselves from the rain that was then falling. Arthur Hill came galloping up to us saying, Lord Wellington does not approve of the use of umbrellas during the enemy's firing, and will not allow the 'gentlemen's sons' to make themselves ridiculous in the eyes of the army."
My interest is not in the then issued standing orders stating "Umbrellas will not be opened in the presence of the enemy." My interest is in the rider with the name of my maternal grandfather, Arthur Hill. But my grandad was not nobility, only a Lancashire lad, born on St Patrick's Day 1859, who became a self taught, chocolate "chemist." I'm told he had seven brothers, but I know that six of his daughters were named after his sisters. The seventh was my mother, Florence. However you count, he was from a big family and shired one, after he and my grandmother, Alice, came to America in 1893.
The Half Penny rests, after its nearly two hundred year journey, on my keyboard, as I write these memoirs.