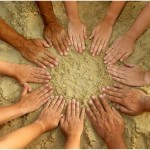 I moved to the Oregon Coast ten years ago after visiting to participate in a week-long painting workshop. During that visit I fell in love with the natural beauty of this place, the kind and progressive people I met, and the air of inclusion I found in the organizations, activities and events in the area. This was quite a change from the atmosphere in the California town where I had been living. I went back, sold my house, quit my job, and moved up here…moved home.
In the decade since, I have noticed a gradual, and recently more drastic decline in the 'air of inclusion' I had been so delighted to find on my initial visit.
The beach and ocean attract creative people. This area has an amazing assortment of artists: writers, visual artists, dancers, musicians, etc.. Our community accepts and respects all forms of creative expression. My first art show here included work from anyone who wished to contribute their artistic reactions to the 9/11 tragedy.
One of the events I have enjoyed over the years was Cartm's annual 'Trash Bash' — an incredibly creative gathering that featured trash art, trash fashion, music, food from local restaurants, entertainment, auctions and more. The Trash Bash was a major fundraiser for our local recycling center and a very popular event with locals and visitors alike. It was suddenly canceled a couple of years ago.
The portion of the now fragmented Trash Bash which I have continued to participate in is the Trash Art Show.  This year I got inspired, created and entered two pieces for the show, and then found out that the artists were not allowed to attend the opening night preview of the show unless they paid the $25 entry fee which gave a limited number of guests first crack at purchasing the art.  I was surprised that people who contributed the art were not included at the opening to explain our process, encourage others, mix and mingle. So right off the top we are excluding artists? Those with less purchasing power? Is it just me or does this not smack of elitism?
Here's another example of what I am talking about. A letter was recently sent out to several in the community who had not purchased tickets to a fundraising dinner for the local land trust. This letter was seeking volunteers to serve dinner to those attending said dinner who had paid a handsome (to some) sum to attend. The servers would deliver the food, would be allowed to spend their money if desired on the silent auction items, but would not be allowed to eat!
I've observed a similar dynamic as a volunteer at the Hoffman Center in the Clay program.  There is a constant push not to create more or to 'feel free to be creative', but to 'bring in more money".
I understand the economy is in a shambles, grants have dried up, there are constantly new regulations and pressures on nonprofits. Yet with all this in mind, must we marginalize so many in the community? One of the words defining 'marginal' in my dictionary is "insignificant." That is what I felt in all these incidents — insignificant.
If only those with deep pockets are made to feel significant, what service do we render to young families in the area?  The elderly? Children? I miss the joy I felt when events included babies and grandparents, when prices were kept low or on a sliding scale so that everyone could participate, when everyone's contribution was valued.  If the challenge of this age is to open our hearts to each other, maybe we need to take a fresh look at shifting the paradigm to one of gratitude for all gifts, even when the gift is not money.