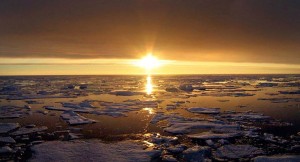 Recently,  a friend of mine sent along a link to a post on the blog Nature Bats Last (what a great name for a blog!), asking me to forward this post to my son (which I did). A couple of days later, my son sent me an email asking if I'd read the piece, and how depressing it was. Well, it took some time, but I finally sat down last night (after finishing filling out financial aid forms for my college-bound son this week) to finish reading this very long and heavily referenced post.
To save you the trouble of reading the whole piece (which I encourage you to do anyway), I'll summarize it in two words – we're toast. The post, by Guy McPhearson, explains that there is overwhelming evidence, mostly unknown by the public, that climate change is accelerating, unstoppable, and will wipe us, and most other life on the planet, out within 20 years or so. That's right – irreversible climate change will cause an extinction event in most of our lifetimes!
Now this is serious stuff. I intend to do a lot of research over the next few days and weeks to find out if McPhearson's essay is serious and worth pursuing. But in thinking about climate change, whether the result is mass extinction or just some inconvenient weather, it occurred to me that there's another concept, process, thing that has many parallels to climate change. You guessed it – cancer.
In both cases, it's hard to diagnose the situation before it's too late. In both cases, there are lots of people (scientists of high respect and knowledge) telling us there is a threat to our lives from it. In both cases, we are told that lifestyle changes can possibly avert the calamity, but also that lifestyle may not matter, since the problem is systemic (the agricultural system, heavy use of pesticides and toxic chemicals, proximity to industrial facilities, TV, racism, etc. for cancer and emissions of CO2, methane and other greenhouse gases by industry, farm animals, pipelines, etc. for climate change). The cost of dealing with the problem for both cancer and climate change is enormous, and for both, the costs rise exponentially if we ignore the problem at first and try to treat it later. Both problems cause terrible pain and hardship to many people around the globe, attacking those well off and poor indiscriminately. In both cases, we have studied the problem for years, but seem to only vaguely understand the process and how to prevent it.
Although we are a resourceful and imaginative species, we may not be able to solve the mysteries of cancer or climate change. Both fields of research have made huge advances in recent years, and we certainly understand both better than we did last century. But in both cases – cancer and climate change – the processes at work are complex and involve the very basic processes that keep people (and other species) and the entire Earth biosphere alive and evolving. To understand and affect these processes to our benefit (or at least continued existence) will take tinkering with the system itself – a god-like enterprise.
Though cancer will do many of us, our pets and other plants and animals in, it appears it is not a near-term extinction threat. Maybe climate change is. Like with a particularly virulent form of cancer, maybe there is no cure for climate change. And perhaps the thing to do is something like hospice, where we make the patient – in this case the Earth and its living systems – as comfortable as possible while we wait for the inevitable. But I suspect that our natural curiosity, imagination and of course desire to stay alive and continue to move ahead with this experiment of life will propel us to try to solve the mysteries of both cancer and climate change, and maybe prevent both from taking their toll.
I hope so.