Our ballots arrived in the mail on Saturday, May 3, giving us plenty of time to mull over the choices for candidates and ballot measures for the May 20th primary election. Usually, I don't even take the ballot out of the envelope until a couple days before the mail-in deadline, but this time, we'll be gone, so I just took a look.
Now those that know me know that I am skeptical of the democratic process in general, but always interested in a good race or controversial ballot measure. In fact, I have a piece in the latest HIPFiSHmonthly, which you can access either in print at many local venues, or electronically by visiting the HIPFiSH website and downloading the latest issue in PDF form (by clicking on the elephant), which focuses on the county commission races in Clatsop and Tillamook counties, all of which are contested. Now imagine my surprise (OK, not complete surprise, but mild annoyance maybe?) finding my ballot devoid of choices, except for Measure 4-170, banning various torture devices for circus animals (is there really a choice here?).
A little more background. I am a registered Green, a not-current dues-paying member of the Pacific Green Party of Oregon. I even get e-mails from the leadership daily discussing strategy and upcoming events, so I'm not your average peon in the organization (OK, really I am, but a well-informed one). Anyway, because I'm a Green, and not a Democrat or Republican, I am considered persona non party for the purposes of this primary election, and can only vote for so-called non-partisan positions and of course ballot measures.
Here is a photo of my ballot, completely filled in and ready to mail: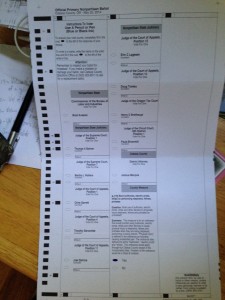 As you can see (if you click on the photo to blow it up, and put on your reading glasses or get a magnifying glass), I only voted for the Clatsop County ballot measure to ban circus animal torture devices. This is because the rest of the ballot contains ALL INCUMBENTS WITH NO CHALLENGERS (even the names without "Incumbent" below them are actually incumbents).
What a waste of money and my time! It gets worse. We got a Voters' Pamphlet for this election a few weeks ago, and it has all the positions that the Secretary of State thinks we are possibly eligible to vote for in our district, including Democrats and Republicans and Non-Partisan positions. Only it doesn't have the 18th District circuit court choice (or non-choice, Paula Brownhill), it has the 19th District, which we can't vote in!! And worse still… There is no county voters' pamphlet, even on-line, so I have to get my information for the torture devices ballot measure from HIPFiSH (in the same PDF as above, or at the same venues) and other sources, but the district attorney race is in the state pamphlet. Go figure. Or not…
And please don't tell me that I can write in any candidate I wish, and so my vote will still count. As a veteran of these things, I can tell you that write-in votes are not even counted unless the names written in are "viable candidates", which means they receive more than like 1% of the vote, or at least a significant amount of write-in votes. Yes, there are examples of write-ins winning elections. But none that I know of for judges of state supreme courts or courts of appeals.
Yes, I'll send in my ballot, or more likely bring it to the county courthouse to save postage and talk to the great election folks there about turnout so far. But only because of that one choice I had, to ban torture devices on circus animals in Clatsop County. I'm pretty pissed off about the lack of challengers for not only the "non-partisan" positions on my ballot, but for instance for state senator to take on Betsy Johnson, who despite her showing up at every imaginable event, is a Democrat supported by our Republican mayor (Willis Van Dusen) and other local Republicans, for good reason.
Come on, people, we can do better than this! What a joke!