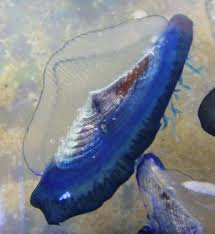 Say for example,
that you are a poet,
and you want
to write about
a particular type of
purple jellyfish
washing ashore
on the beaches of
the Pacific Northwest
of the United States
of America. And
this particular jellyfish
has a perfect name…
Velella Velella.
A poets dream.
Say it aloud….
Velella Velella.
Romantic, yes?
However,
as a poet
there still remains
an issue, and
that is the word
purple.
As a poet, you can
understand that
the word
purple,
it stands between
me and my own
ultimate fame.
Poets, hear me out.
If you are a poet,
say the word aloud…
purple…
I'm right, yes?
Purple Velella Velella.
If only this perfect
jellyfish had been
known as
Violet Velella Velella,
I might by now
be exalted and praised
riding a chair
lifted above
someone's head,
maybe even yours,
as the first
Poet Laureate
of my building
on fourteenth and
Irving Street.