It's a heck of a thing — crying as you read a comic book. Or questioning your identity. Or even pondering your eternity.
Especially if the story's about a guy and his mummy sidekick finding a gateway to Hell in their basement. Not exactly Dante? You'd be surprised.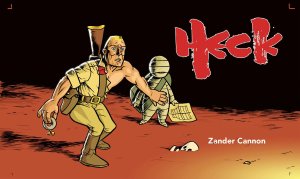 Culled from the midlife trials of its creator, Zander Cannon's graphic novel Heck is a pulp adventure with soul. Beyond its cute mummy, brazen concept, and cartoony style, it delivers what only the best comics can: emotional connection, self reflection, heck, even spiritual wonderings!
It started with the 144-Hour Graphic Novel Project in Minneapolis-St. Paul. This event challenges artists to set aside one Saturday monthly for a year. produce one page per hour, then collect those 144 pages into a complete story.
Working this quickly allowed Heck to become more auto-biographical than Mr. Cannon expected. "As I wrote and drew it," he says in the Afterword, "The various forces that were shaping my mid-thirties horned their way in and made the relationship between a man with a shotgun and his tiny mummy sidekick the representation of a lot of my own thoughts about fatherhood, responsibility, guilt, and heartbreak. I know. It's ridiculous."
What isn't ridiculous is just how powerful the story is. Or how emotional Cannon's simple drawings are. Whether it's Heck's anguish…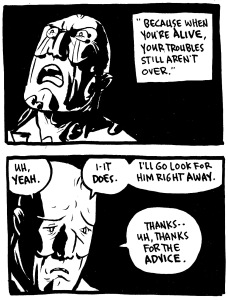 …or the pain of best friends betrayed…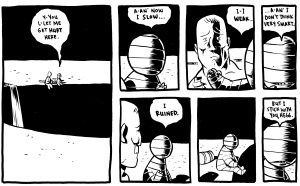 …Mr. Cannon's bold lines fully invest you in the believability of a man and his mummy walking through hell and the emotional cost of such a quest.
Though Heck battles monsters, this is clearly no video game. He may fire a shotgun at one monster and feed snacks to another, but Hell nearly robs his soul. In one scene, he goes mad when pennies are placed on his eyes to cross the River Styx. In another, he despairs when demons don't recognize him.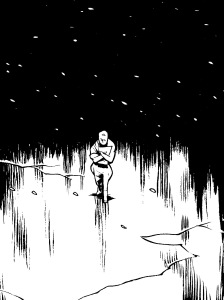 Heck sets off echoes of familiarity in us as betrays his best friend, comes to terms with his own selfishness, and receives an almost incomprehensible gift of forgiveness that summons many tears. In this moment, Heck cannot grasp why his friend Elliott – whom he has ruined and left for dead – has forgiven him.
His reaction to such forgiveness and his subsequent actions elevate this story into a spiritual meditation and profound emotional experience.
Upon running into Mr. Cannon at a recent convention, he shared how writing Heck changed his life. Growing out of great pain in his own life, a period involving miscarriages for his wife, its reception has inspired him to create more projects that pursue soul instead of trends or money.

It's ridiculous, I know, to suggest that a pulpy comic about hell can be revealing and soulful — a personal work of art — but in this case, it's true. It represents the best of what comics, as a medium, can be. And it's a Heck of a thing!