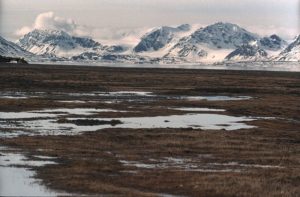 The vision was of dog sledding, and a small cabin perched on the rocky edge of the sea. We were well above the Arctic Circle, two hours driving distance from Tromso, one of Norway's most northerly cities, and we had come for snow! Arriving shortly after the Winter Solstice, the light was gradually returning, but at a hairs length. The most you could hope for was a few hours between 10 am and 2 pm, and even that was murky and singed in darkness, looming like an indigo specter of night. The sun never fully breaks the horizon at this time and latitude in winter, and we had strong desire to experience that. Plunged into the womb of Polar Nights, we crossed our fingers and held out hope, that the Aura Borealis might dance this night in the obsidian sky.
She did not, but the first night was glorious nevertheless.
Grabbing some provisions at a well-stocked portal, some warm soup and buttered bread, we set out for a long jaunt into the pervasive darkness and ever beckoning snow. Although there was much less of the white stuff than usual for that season, I was grateful for it. Living in Oslo, we had none. Zero. Zip.
Twenty sixteen had been one of the warmest snowless winters since the 1950's. There were days I wore nothing more than a shortsleeved tee shirt and an ultra light down vest, and still was sweating. We had fog and light rain. Misty dew-drenched mornings. I was beginning to think I had brought the Pacific Northwest with me. But here at last, remote and most northerly, there was snow!
We walked under the stars, laughing and giddy, as winter's embrace worked her magic. At one point, I strayed slightly away from my family, to lay vaunted, in joyful meditation, coddled by the earth's alabaster bosom of white.
The next day held promise. We woke to orcas frolicking and cavorting in a cerulean fjord, as the mid morning snow gently fell. But by late afternoon, it all seemed to drastically change. The weather warmed and it began to rain. It rained hard and blew fiercely for almost 24 hours. From our cabin we could view the white of the frozen landscape, gradually giving itself over to earthen mush. We checked temperatures in between board games and potato chips. Tromso, Norway was warmer than Cannon Beach, Oregon! Athens, Greece huddled at 26 degrees, while we were roasting at a balmy 42, and this at 10:30 at night!
What had happened?
Those who know me know I cherish the white downy flake. So I move to Norway, and Portland out snows us? Olympia Washington buries us in an avalanche of winteriness, of which my daughter never fails to flaunt.
Dog sledding was now a prospectors defeated dream. The snow shoes I'd brought slept fitfully inside their snug, zippered case. We decided to head back to the city and perhaps take in some of Tromso's winter charm. (It was pouring there too.) Yet before we did, I took a lone walk, determined to meet the Heart of the Arctic and gently pose a shocked and forlorn question.
Why?
It was still raining, but it let up enough for me to gain some distance and some ground. The quiet was deafeningly sensual and profound. Walking briskly, I had stripped down to a tee shirt and sweats, and again, I was sweating. I had to remind myself of where I was, high in the Arctic, in winter! The silence, and the slow breath of the land calmed me. I stood for 45 minutes in the same place, listening to the sacred nothingness that is at the heart of All Things.
I was loath to leave, but I was not alone, and on the return drive to the city, I queried our local host as to what had happened. A life long resident, he told me that eight or ten years ago, something shifted, something changed. Where before they'd remain snow bound for months, now rain and a warm southerly wind dominated the landscape. The snow-filled solace of most of his life had been replaced by thin rubber boots and plentiful mud.
I had heard similar stories in Oslo. Winter used to begin in October and end very late in March … maybe. This year Christmas was without any snow, and no snow appeared remotely in the forecast. Only rapidly climbing temps, and a sparingly tapped into winter wardrobe….waiting. I don't have answers, only observations, and an innate sadness that the greedy and imbalanced hand of man is playing some crucial part. No matter what happens, no matter what countries do or don't do, We as a People, Individuals, and as a collective, have a responsibility to do our Best! To think about, be conscious, and change ways and modicums that lay a serious hurt upon our precious Mother and its sorely dependent inhabitants.
The way is clear and blessed with an abundance of environmentally friendly alternatives in the form of hemp, wind, solar, and free energy, just to name a few. Wherever we are, lets do our part to make a lasting difference. One single act of kindness and consciousness can create a welcome blizzard of sustainable change.
I thought about this as I picked my way cautiously along Oslo's thinly iced streets, trying hard not to slide towards an irrevocably grim future.