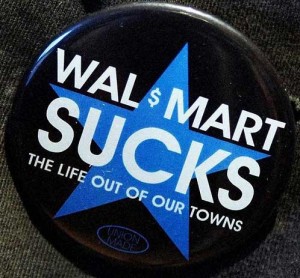 Please read these important messages from Laurie Caplan, veteran activist, and Sara Meyer, retired business owner and a leader of CRAW (Clatsop Residents Against Walmart), and get your letters in to the appropriate agencies BY JUNE 18 (NEXT MONDAY)!!! The public notice can be downloaded here.
I might add that Ken Leahy, the name on the application, is the owner of the land that was to be Bradwood Landing LNG.
From Laurie
We don't hear much these days about Walmart or another big box store coming to the coast, but the permitting process is moving forward.  If you are concerned about the uglification of Hwy 101, the existing abundance of empty storefronts along the coast, the existing damage to our local wetlands, the inability of local businesses to fairly compete with Walmart and others like it, and more, then please write your three letters to the agencies below, as Sara Meyer of Astoria urges. (emphasis added)
From Sara
We are in need of your abilities to write to 3 agencies opposing a wetland fill permit that if granted makes a Walmart more possible.  You need to write before June 18.  AND we are grateful for the help!
SUGGESTED TALKING POINTS:
I am opposing the granting of permit NWP-2007-1024 requested by Peaksview LLC. (this needs to be part of your letter.) This permit seeks to fill .37 acres of wetland for the stated purpose of making an unnamed big box store more visible to Highway 101.
We oppose the fill because there is no need except greed to fill the area that drains towards the Skipanon.
We oppose the fill because Peaksview rationale is flawed.  They state that there are only 3 modern big stores and any others are outdated.  There is more than an adequate amount of retail stores to serve the coastal population.
We oppose the fill as the retail already existing in that area is covering wetlands and large animal habitat.  There is enough damage to our state waters.  The wetland permits  are being granted lot by lot and that covers too much of the whole.
Focus on the importance of the wetlands for clean water, flood control, salmon and migratory birds. The wetlands on 101 are linked to the fish bearing Skipanon. There is no need for big box stores; we already have Fred Meyer, Safeway and Costco. Small, locally owned stores are more needed and could be built to avoid wetlands. Permit should be denied.
Public Notice NWP-2007-1024 is available here.
Send your emails to the following (and please bcc: me at s.c.meyer@seasurf.net):
US Army Corps of Engineers: Karla.g.ellis@usace.army.mil
Coastal Zone Management Act (CZA): coast.permits@state.or.us
Department of Environmental Quality: 401publiccomments@deq.state.or.us